Virtual Fitness Classes
Each of our pre-recorded videos are prepared by one of our USask Rec fitness instructors.
Videos are available free of charge to our USask community for February BeActive month. Follow the link to register.
Registration will be available
online
at 6:00 am on the scheduled date. Upon completion of the registration process, you will receive an email that will include a link to the class which will be active for 48 hours.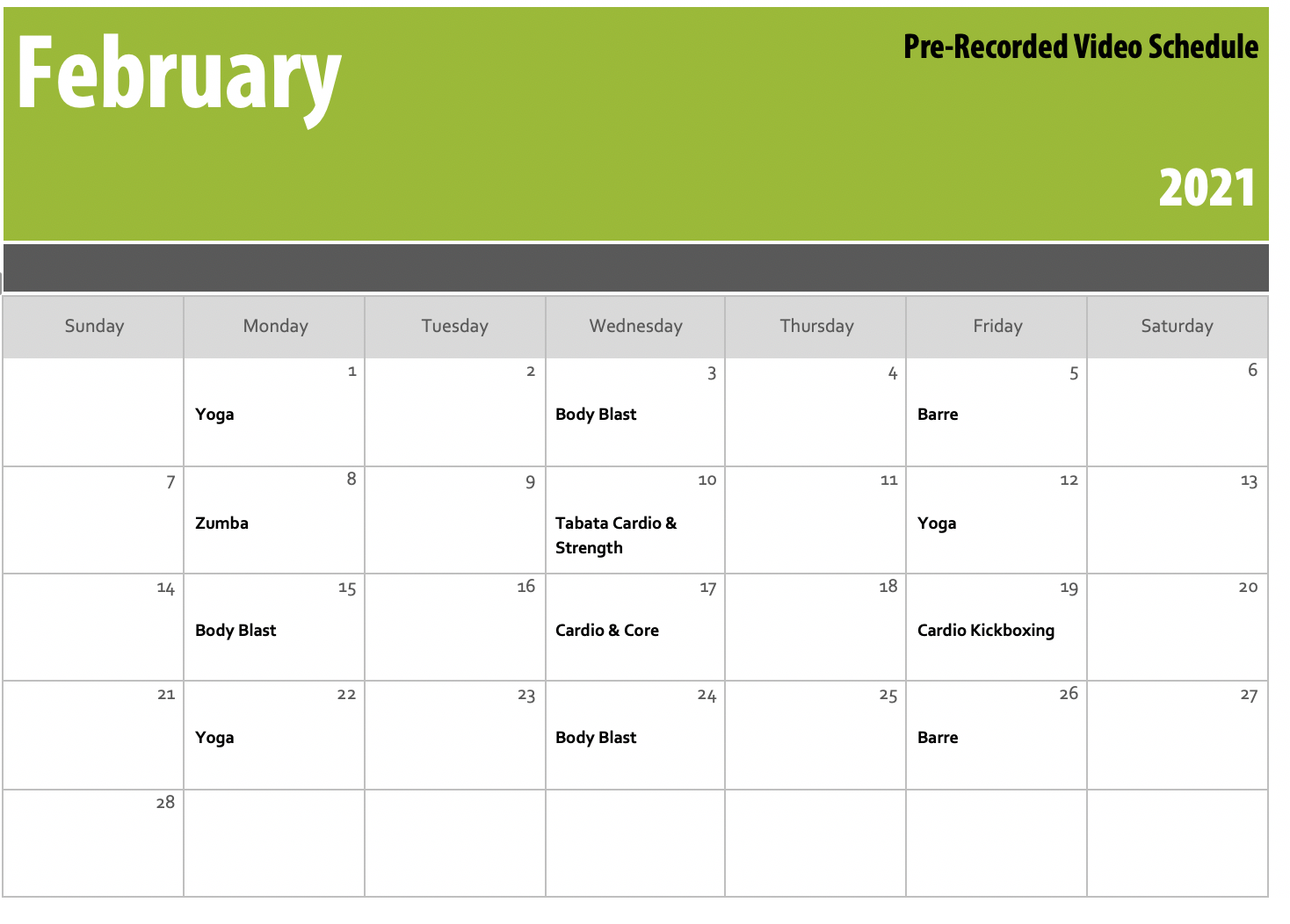 Not into pre-recorded fitness classes?
Do you want to experience live fitness classes but aren't able to make it to the Fit Centre? Try our new Yoga Nidra, Dragon Flow Yoga or Barre live virtual fitness classes!
Couch to 5K
Join us for the FIRST ever at-home Couch to 5K. Participants (open to everyone) are encouraged to download and print the USask Rec bib, get off their couch, and complete a 5K run or walk!
Challenge yourself, a friend, or a colleague. You can tag us in a photo or video on your social media channel completing the task for your chance to win prizes!
You can do it on your own or follow a program provided by the experts at the Human Performance Center. Once registered the program will be e-mailed weekly.
Registration opens February 1 and closes on February 8. 

Speaker Series
During the month we will release two videos from the experts at the College of Kinesiology on how you can incorporate an activity program into your every day life.
Exercise of the Day
Throughout the month of February we will be introducing a new exercise every day. The days are structured so that every two weeks a program will come out that will include warm-up techniques, strength exercises and how to cool down after your workout. Videos associated with each exercise will be released daily for you to follow along both at home or in the gym. 
Download complete program from days 1-8 here.
Winter Clinics
Winter Biking Clinic
Interested in staying active during the winter? Biking is a great form of exercise & transportation, but can be dangerous during those slippery months. Whether you are looking for tips on what bike to purchase, what conditions are safe to ride, or other tips, the team at Bruce's Cycle Works will provide you with lots of useful information through these virtual sessions.

February 8
Winter Running Clinic
Interested in staying active? Whether you are an avid runner, or just starting these virtual running sessions will provide you with all of the important tools you need to be successful and safe at running in all seasons. Tips including what equipment you should use, proper running conditions, and important safety measures which will be provided by the team at Brainsport!

February 8
Indoor Challenge
Treadmill and Bike Total km Challenge for students only. Students will fill out a ballot with their daily km after each workout inside the Fit Center. A leader board will be displayed inside the Fit Center.
 Runs February 1-28 with prizes being handed out immediately following.
Prizes
Complete any or all of the challenges above for your chance to win USask Rec swag and our grand prize giveaway!
All contests will be ran using @usaskrec on Instagram, Facebook and Twitter.
Tag us and use #usaskbeactive to enter!